The 50+ Show in Glasgow 2015 at the SECC
Getting to the SECC
The venue address is: Exhibition Way, Glasgow, Lanarkshire G3 8YW
By Free Shuttle
A free shuttle bus will from the city centre to the SECC. The bus service will pick up visitors going to The 50+ Show from North Hanover Street at Queens Street Station and drop them off directly at the East entrance of the SECC. The buses will run from 9.00am to 5.00pm. Due to the popularity of the free shuttle service, you may experience some delays - please bear with us.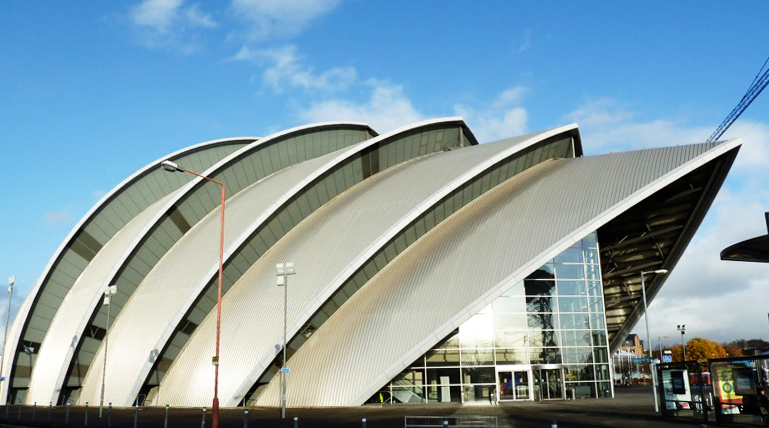 By Road
The SECC is just off Junction 19 of the M8 motorway. from the M8 take the westbound Clydeside Expressway (A8414). Exit at 'SECC West' slip to access our car parking facilities.
Please note that arrangements for paking at the SECC campus have now changed, with the opening of the brand new multi storey car park in July.
We are pleased to announce that a new multi-storey car park at the SECC operated by City Parking (Glasgow) LLP is now open and will be the main parking area used for events at the venue.
This facility is located at 10 Stobcross Road, Glasgow, G3 8YW. A map and directional information is available at http://www.cityparkingglasgow.co.uk/index.aspx?articleid=9996
Payment can be made in advance for some events when purchasing tickets from www.ticketSOUP.com, but on-site pay machines are located at level 2 (walkway level) and ground floor main foyer of the car park. Payment can be made by cash or credit/debit card. Tariff Rates in the MSCP Monday to Sunday are:
1 hour £3.50
2-12 hours £7.00
13 hours £10.50
14-24 Hours £14.00
Visitors can either pre-pay after arrival or pay before exiting.
The parking area is for cars only and has a height restriction of 1.9m. For information on parking other types of vehicle at the venue please email [email protected].
For more information on the multi-storey car park please contact the operators directly via their website http://www.cityparkingglasgow.co.uk/index.aspx?articleid=9996
There is a new onsite multi storey car park (1600 spaces) for all cars and small vehicles (height restriction applies). Charges are 1 hour £3.50, 12 hours £7.00. Payment can be made at the level 2 (walkway level) and the ground floor of the main foyer.
Assisted Buggy Transfer
A complimentary assisted transfer buggy was in operation for the duration of The 50+ Show and ran between the multi storey car park (MSCP) and the main doors of the SECC. The primary purpose of the transfer service was to ferry visitors, particularly wheelchair users and those with mobility difficulties, from the MSCP to the venue, for the duration of the show. The buggy can transport a wheelchair and two passengers at a time and on occasion multiple buggies may be in operation.
By Train
Exhibition Centre station is SECC's own dedicated railway station allowing easy access from the city centre and the suburbs. Six trains an hour from Central Station (Platform 15) will bring you to Exhibition Centre station in a journey time of just three minutes.
Call National Rail Enquiries on 08457 48 49 50 for timetable and price details.
By Bus
First Bus 62 service and Arriva 26 service operate each day, approximately every 10 and 20 minutes respectively, adjacent to the SECC site. These services run from Argyle Street (62) and Finnieston Street, at the Clyde Arc Bridge (26) .
Both services travel to Glasgow City Centre and return, as follows:
First bus 62 service via St Vincent Street, West George Street and Union Street
Arriva 26 service via Broomielaw, Oswald Street and Glasgow Central train station. For further information visit www.arriva.co.uk or call 0141 636 3195.
First Bus 100 operate a service from the City Centre to Kelvingrove, via the SECC and Riverside Museum.
By Taxi
There are taxi ranks throughout the city. Main pick-up points include Buchanan Bus Station, Queen Street and Central Stations and most large hotels. An average journey from the city centre will cost around £6.00.
By Coach
Coach parking is also available at the SECC. Coach drivers should park as directed by the stewards.
By Air
Glasgow's international airport is a 15 minute drive from SECC and provides direct access to and from major European and North American cities. The city sits on the nation-wide transport system with fast rail and road access to all the UK's principal cities. Situated just off juntion 19 of the M8 motorway, the SECC is within five minutes drive of the city centre and it has its own railway station and bus terminal linking with Glasgow's excellent public transport system.
From within Glasgow there are a number of options that will bring you to the front door in a matter of minutes.
Eating at the SECC
Visitors to The 50+ Show are welcome to bring their own packed lunch and drinks to the show - there will be plenty of areas for you to take a seat and have a rest for a few minutes - you might need it with everything that is going on!
There will be two refreshment points (Deli Marche and Coffee Cart which will be situated at the back of the hall) offering tea and coffee, a selection of sandwiches, pastries and a small choice of hot snacks.
Otherwise if you fancy spoiling yourselves the SECC provides a range of flexible dining and drinking options for all visitors - whether it's a quick pint and sandwich or a more leisurely a la carte meal. Enjoy the new bar and restaurant facility, Clydebuilt Bar & Kitchen. Housed in glass and with a contemporary industrial design, Clydebuilt is conveniently located at the east entrance of the SECC and only a short walk from The SSE Hydro. The Kitchen is available to book online and the substantial bar area, which offers spectacular views on to the new arena, is open for pre/post event drinks and bar food. The Clydebuilt Kitchen is now available to book online so why not 'clock in' for something to eat before the show. Simply click here.
---
Disabled Information
Accessibility - The SECC main building has automatic doors at both East and West entrances. The Conference Centre has widened main entry doors, which a steward will be pleased to open for you. All halls in the main building are situated at ground level, and the upper levels of the Conference Centre, Loch Suite and Seminar Suite are all accessible by lift.
Travel by Train - If travelling by train disembark at Exhibition Centre Station. A lift is available to take you from the train station to street level. A covered walkway then leads from the station exit directly to the East entrance of the main SECC building.
Car Parking - Blue badge holders should use the allocated parking spaces in the Multi Storey Car Park, unless otherwise directed by parking stewards. Disabled spaces are available on a first come, first served basis and normal parking rates apply.
Wheelchairs - A limited number of wheelchairs are available for use by visitors on a first come, first served basis. To check availability on the day of your visit, call our Medical Centre on 0141 275 6333.
Hearing Impairments - Public telephones on the concourse of the main building are available for patrons with hearing impairments and SECC Box Office and Main Reception have an induction loop system.
Medical Centre - The well-equipped Medical Centre is located on the concourse of the main building, toward the East entrance. Our highly qualified first aid staff will be pleased to help, or simply answer any queries you may have. First aid staff can be contacted directly at the medical centre, or through any member of our security staff.
Toilets - The SECC has wheelchair accessible toilets situated on the main concourse and in all exhibition/concert halls. Disabled toilets are also situated on all levels of the Clyde Auditorium.