Exhibiting at The 50+ Show in London
The 50+ Show will next take place at London Olympia National Hall on Friday 14 and Saturday 15 July 2017: It will be our 10th anniversary (2007-2017)!
The 50+ Show took place (for the 10th time!) at London Olympia on Friday 15 and Saturday 16 July 2016 with around 5000 visitors and 100 exhibitors.
Are you interested to meet lots of new contacts in the 50+ age demographic? Then exhibiting at The 50+ Show is probably for you!
Click here to download the Exhibitor Brochure 2016-2017.
View the Floorpan for The 50+ Show at London Olympia, 14-15 July 2017
Download the pdf order form for The 50+ Show in London, 2017

What did the exhibitors think about The 50+ Show in London in July 2016?
We have attended the London 50+ Show for a number of years and it is always an excellent show for us to display our Park Homes and sell the concept of Park Home living on our 50 Residential Park Home Estates which mostly only accept people over 50 years old. So a good market place for us. Olympia is a good venue, well organised and easy to set up, work and break down. A couple of nights out in London are always a bonus too!
Paul Tarr, Berkeley Parks
I thought it was great - the visitors on Saturday were of much higher value to us than Friday! I definitely learned a lot on Friday that made our Saturday much better!!
Kate Marston, Future Legal Services
Again another great 50+ Show at Olympia. It's a great opportunity for us to catch up with our customer base from London and surrounding areas - but it is also a great opportunity to showcase to those not aware of us what we are all about. Great organisation and we will be sure to be back.
Emma Mcmillan, David Urquhart Travel
Another successful show, so many potential new customers visited our stand. We were very impressed with the organisation and professionalism of everyone that we had contact with, made the whole experience very easy and smooth running. Thanks guys.
Helen Baker, Cultural Breaks
The 50+ show was a great platform for Vision Hotels as we were able to reach out to many new potential guests who are within our customer demographics and it is a well organised and presented show.
Andrew Wilson, Vision Hotels
We had a fantastic show! This was the first time we had attended and we found that it was a great opportunity to create awareness of the London Hearing brand and we made a lot of good quality leads. We would highly recommend the show! I am sure we will be back next year!
Joe Thomas, London Hearing
What did the exhibitors think about The 50+ Show in London in July 2015?
View The 50+ Show Exhibitor Interviews from London 2015 video and read their testimonials below!
My stand was buzzing from the time the doors opened to when they closed, information was flying from my stand and I'm pretty confident that the results from attending the show will be very positive as they were last year. Thanks to all the organisers, a great show which was well planned and executed. See you next year


Cultural Breaks
Excellent show with lots of positive feedback from our stand visitors. It is always good to hear you are doing something right. Not only this but we have more than enough enquiries from new customers to keep us busy in the office which is what it is all about. Looking forward to Glasgow already!
David Urquhart Travel
We have been exhibiting at this flagship event for 8 years, from its original inception as 'The Retirement Show' through to its rebranded format 'The 50+ Show' and hope to continue to attend for many years to come. This is a super show, with a wide range of exhibitors, seminars and lifestyle events, which goes from strength to strength each year. If you have not exhibited - give it a go - and if you have not visited, put it into your diary for next year!
Girlings
Exhibitors - Don't fall for the Expo-Guide Scam - This is nothing to do with The 50+ Show!
Why Exhibit?
Exhibiting at The 50+ Show will put you under a waterfall of contacts in the 50+ demographic. If this is your area of interest, then you should probably exhibit.
But don't take our word for it - take a look at the testimonials video and hear what exhibitors had to say.
---
Floor Plan
Click the picture below to see the full-sized floor plan for The 50+ Show in London, July 2016.
Floor Plan 2016
Exhibitor Video
You can see a video of what our exhibitors thought of the Show in London 2015 by clicking here.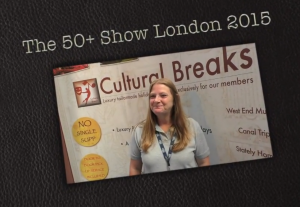 Watch 2015 Video
Tips on Success
Please click here for tips on how to exhibit successfully. Please take time to read this information before you exhibit at show.
Tips on Success
---
Warning…
Don't fall for the Expo-Guide Scam - Advertise only in the 50+ Show Magazine!