The 50+ Show Manchester Central
Manchester Central is in the heart of Manchester city centre and is easily accessible from all over the Northwest of England. Further information on getting to Manchester Central can be found by visiting the Manchester Central Website by clicking on the link below:
http://www.manchestercentral.co.uk/getting-here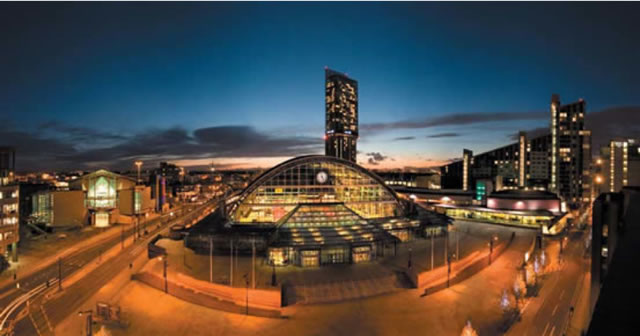 Getting to Manchester Central
By Train
Manchester Picadilly and Victoria train stations are approximately 20 minutes walk away from Manchester Central, or a 5-10 minute taxi journey. Oxford Road and Deansgate stations are just a 2 minute walk. Train tickets are valid on the Metrolink to get from Picadilly, Victoria and Deansgate stations to the exhibition venue.
By Metrolink
Nearest Metrolink station is St Peter's Square (not the station named G-Mex).
By Bus
Contact GMPTE on 0161 244 1000 or go to www.gmpte.com for the latest bus times.
By Car
A NCP car park is available underneath Manchester Central which also has disabled parking. A second car park (also NCP) is available at the rear of Manchester Central.
In addition there are other NCP car parks which may offer cheaper rates throughout the city. Further informationon these car parks and the tarriffs can be found by clicking here. The NCP have two value sites where all day parking is £2.50, these are Sheffield Street and Park Street. In addition the NCP offer early bird savers where customers who enter the following car parks before 8.30am can park for up to 12 hours for £3.90.
* The above information has been provided by NCP and rates can change, please visit their website (above) for the latest information.
High Street, The Grand, Church Street and The printworks.
A map of NCP car park locations can also be downloaded by clicking here.
Disabled Information
The 50+ Show is on the ground floor at Manchester Central, at street level. Disabled toilets are also on the ground floor level. Manchester Central has a dedicated area for assistance dogs and Deaf Alerter, the radio-based fire alarm warning and messaging system. All staff are trained in disability awareness.
Further information as to how to get to the venue can be found by clicking on the link below.
http://www.manchestercentral.co.uk/getting-here
Manchester Central Address 
Petersfield, M2 3GX